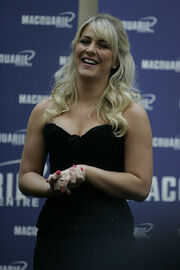 Susan McFadden
(born 8 February 1983) is an actress and singer born in Dublin, Ireland. She is best known for playing the roles of Sandy in Grease at the Piccadilly Theatre and Elle Woods in Legally Blonde the Musical at the Savoy theatre in London's West End. She has also been a member of the all female Celtic music group, Celtic Woman, since 2012.
Ad blocker interference detected!
Wikia is a free-to-use site that makes money from advertising. We have a modified experience for viewers using ad blockers

Wikia is not accessible if you've made further modifications. Remove the custom ad blocker rule(s) and the page will load as expected.