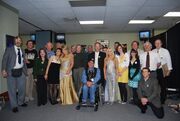 When I first met this Irish girl, I mentioned some things to her like the
Care Bears
and decribed her hairstyles in her
Walking In The Air
DVD. In my second time to meet her, I also showed her my white soft toy bunny rabbit named Cuddles who wears a green and white checkered ribbon with a bow tied around the side of her neck and my soft toy panda cub who used to be attached to its mother who wears a red scarf for now. She told me that she likes these creatures and we really are very friendly, cheerful and caring. Now, I realize that we internationally love good things.
Ad blocker interference detected!
Wikia is a free-to-use site that makes money from advertising. We have a modified experience for viewers using ad blockers

Wikia is not accessible if you've made further modifications. Remove the custom ad blocker rule(s) and the page will load as expected.